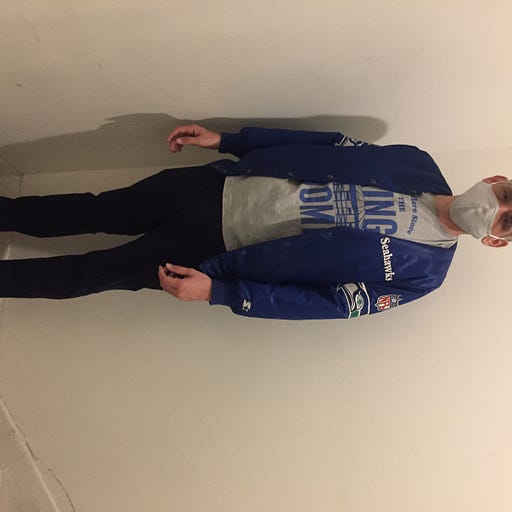 Feb 2, 2022 • 1HR 6M
Will Pete Carroll change up his philosophy this year? Bob Condotta of The Seattle Times answers your Seahawks questions
Plus the status of Seahawks ownership, the future of Bobby Wagner, the priority free agents like Rashaad Penny, and Bob gives his advice on how to "Twitter"
My favorite Seahawks follow on Twitter is Bob Condotta. By not giving more than he's asked for and never seeming like he's trying too hard, Condotta has a rare combination of journalistic integrity and social media wit that few others on the space can claim. I've often called Bob "the realest one" to Seaside Joe readers and that was based on his longstanding history with The Seattle Times and his ability to keep up with the times as a prominent figure on the NFL internet.
But today I get to add "great podcast guest" to my list as I sat down with the realest one for an hour of Seaside Joe: A Football Podcast. Hit subscribe to Seaside Joe on Apple podcasts or wherever you listen for more weekly chats like this one.
Bob Condotta and I talk about:
His history as a writer at The Seattle Times and writing about UW basketball and football prior to covering the Seahawks

Thoughts on the newspaper industry and journalism as a whole

How does Bob "Twitter" so well?

The importance of breaking news and competing against NFL Network insiders like Ian Rapoport

Will Pete Carroll approach this offseason any different than the others?

Who is he looking for in the next defensive coordinator?

As a hands off owner, does the Paul Allen era differ any from the Jody Allen era?

That transition year under Jim Mora; what was that about?

What will the Seahawks do with Bobby Wagner?

Did 'sentimentality' influence previous contract extensions in Seattle and is that gone now?

Who are the top three priority free agents?

Bob's experiences with fans asking about Rashaad Penny over the last four years

Is watching the playoffs driving Russell Wilson insane and will it drive him out of town?

And Bob answers YOUR questions from Seaside Joe readers, including "Was Shane Waldron a good hire?" and "Will the Seahawks create their own version of Deebo Samuel?"
SUBSCRIBE TO SEASIDE JOE: A FOOTBALL PODCAST and A FOOTBALL NEWSLETTER