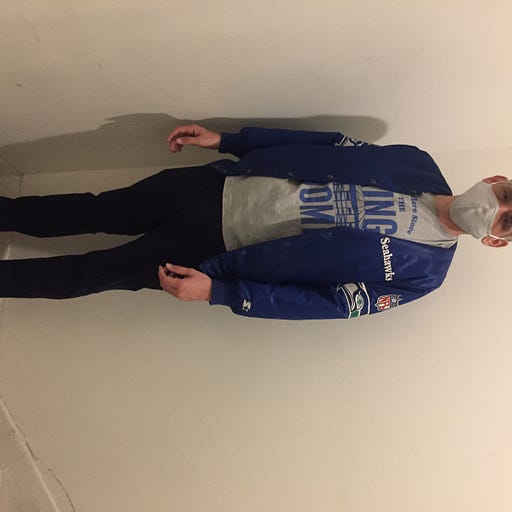 Mar 11, 2022 • 1HR 8M
Seahawks Draft Podcast: Mookie Alexander on free agency, first round quarterbacks, and rebuilding the roster
"None of this matters if the Seahawks can't effectively find a new quarterback, and that is a lot easier said than done."
The Seattle Seahawks are only three days removed from the biggest trade in franchise history. How they plan to dig themselves out of this hole will remain a mystery until the Seahawks make use of the first round pick (ninth overall) that they received from the Denver Broncos in the deal for Russell Wilson.
"None of this matters if the Seahawks can't effectively find a new quarterback, and that is a lot easier said than done," says Mookie Alexander on Friday's latest episode of the Seaside Joe podcast.
(Podcast Episode Details and Timestamps Below)
Want more daily coverage of the Seattle Seahawks 2022 NFL Draft and how Pete Carroll plans to find said quarterback and rebuild the roster? Subscribe to this Seaside Joe newsletter, for articles like this:
Seahawks 2022 Mock Draft: Trade Up edition
Why Seahawks must focus on rebuilding the farm, not trading for "Erik Bedard"
Seahawks 2022 NFL Draft top-10 big board: Evan Neal on top
Seaside Joe is a reader-supported publication. To receive new posts and support my work, consider becoming a free or paid subscriber.
This week, I'm joined by Mookie Alexander of Field Gulls, a fantastic Seahawks website at SB Nation.
00:00-3:15 The news still hasn't settled in, 48 hours later. The biggest news in Seahawks franchise history? Comparing the trade to Gary Payton being traded for Ray Allen.

3:15-4:15 Mookie reacts to the Wilson trade: "It makes me feel all sorts of things. Most of them aren't good."

4:15-6:00 Covering the details of the trade and how it all went down with Denver. "None of this matters if the Seahawks can't effectively find a new quarterback, and that is a lot easier said than done."

6:00-8:30 Looking at it from Russell Wilson's side and the fact that he walked away, waived his no-trade clause.

8:30-11:30 Drew Lock goes to Seattle, but the Seahawks can't be done looking for starting quarterback options—which route will they go? Mookie: "It feels like they're gonna punt this season, even if Carroll won't admit that." Kirk Cousins? Matt Corral? Ryan Tannehill? Gardner Minshew?

11:30-14:30 I make my case to Mookie and the Field Gulls readers to draft an offensive tackle in 2022 and to please avoid taking a quarterback in the draft until 2023. It is so important! "The Seahawks would have been a 3-14 team without Russell Wilson last year. That's what they are now."

14:30-16:30 Stone Forsythe? Jake Curhan? Re-signing 36-year-old Duane Brown? Seattle needs an offensive tackle so bad, this is a rare opportunity to draft one.

16:30-21:00 Did I convince Mookie to reconsider looking at a quarterback in the draft this year? He compares the Seahawks' current situation to the Seahawks in 2010-2011 to rebuilding the position now. "We have seen through the last couple of Super Bowls, the importance of both lines. The Bucs and Rams had dominant performances along the offensive and defensive lines."

21:00-23:00 Jordan Davis? Edge rusher? "You could list every position on the team at this point. There are very few things that are blocked."

23:00-25:15 Why the Seahawks aren't going to do anything surprising in the first round. Offensive tackles: Ikem Ekwonu, Evan Neal, Charles Cross. "You felt like this guy's a real football player, the Seahawks just need more real football players."

25:15-27:45 "The Seahawks have no right to say that they can support any quarterback, which is why Russell Wilson was traded."

27:45-31:00 What does Mookie expect Seattle to do with their own free agents? In outside free agency? Will Tyler Lockett be traded?

31:00-32:30 Why I am ready for the "next teardown." It's possible to be bad for one season, good the next. Why Seattle can still sign J.C. Jackson, even if they're also rebuilding.

32:30-35:00 Would Mookie be on board with the Seahawks being bad this year? "I don't see how we have any choice." Deshaun Watson: "That would be the stupidest move in franchise history."

35:00-36:45 Why I don't see it as the Seahawks "choosing Pete and John over Russ."

36:45-39:00 The Seahawks are nowhere near as good as the Bengals would be without Joe Burrow. That's why Seattle needs to build the team before they get the quarterback. At best, Seahawks may look to be the 2021 Patriots.

39:00-43:45 Jason Myers and what players could be released. Chris Carson? Kerry Hyder? Is that what Shelby Harris was added for?

43:45-47:00 Without Russell Wilson, the Seahawks are like a Nascar team without a great driver or a great car. They don't have a car or a driver. You need the car before the driver, and Seattle's car needs A LOT OF PARTS.

47:00-51:00 Mookie on the present and future of the NFC West: Rams, 49ers… (and we forget about the Cardinals.) Trey Lance anything?

51:00-53:00 Would Jordan Love be a reasonable trade target for the Seahawks? "That would cause me to do something else with my Sundays."

53:00-54:45 We go over the list of veteran free agent quarterbacks to complement Drew Lock, if the Seahawks don't draft a quarterback. Tyrod Taylor?

54:45-57:00 Mookie talks about AFC free agents Tyrod, Trubisky, etc.

57:00-58:45 Mookie talks about NFC free agents Cam Newton, Fitzpatrick, etc.

58:45-1:04:00 Why I think Seattle should shy away from any quarterback who could potentially win the job long-term. "I think the Seahawks need to be over the moon for the 2023 draft quarterbacks." I talk about CJ Stroud, Bryce Young, Anthony Richardson, and Grayson McCall.

1:04:00-1:05:00 Follow Mookie on Twitter!

1:05:00-OUTRO! Please subscribe to the podcast "Seaside Joe: A Football Podcast" and this newsletter for daily Seahawks draft updates